Introduction:
Express Entry is Immigration, Refugees and Citizenship Canada's (IRCC's) system for managing the intake of economic immigration applications submitted on or after January 1, 2015, for the three classes: Federal skilled worker class (FSWC)、Federal skilled trades class (FSTC)、Canadian experience class (CEC). Applicants need to create a profile in Express Entry system, which ranks their human capital, spousal factor, adaptability, and other factors. Applicants have higher score may receive the invitation.
The Express Entry System also manages a portion of the provincial nominee class (PNC). In order to quickly select eligible applicants, some provinces have added some immigration streams under their provincial nomination class to the system. In addition to going through the provincial nomination process, it also needs to be screened by the Express Entry system to achieve the goal of rapid immigration, such as EEBC-Skilled Worker, EEBC-International Graduate, OINP-EE Human Capital Priorities Stream, French-Speaking Skilled Worker Stream and Skilled Trades Stream. In November 2016, the Canadian government tweaked Express Entry to give bonus points to international graduates.
Immigration Process under Express Entry System:
Prepare application supporting documents (It usually takes one to two months for language exam preparation, get your foreign credentials assessed according to Canadian standards)
Create and Complete an online Express Entry profile
Wait for invitation in EE pool (invite regularly every month; candidates in the Express Entry pool who do not receive an Invitation to Apply for PR in Canada after 12 months may resubmit their profile and re-enter the pool)
Receive an Invitation to Apply
Submit completed application package in 60 days for Canadian permanent residence
IRCC will debit the processing fee, review all documents and transfer the responsible visa office、background check、 physical examination check etc. IRCC will prove or refuse the application within six months
Latest Round of Express Entry Invitation:
On June 11, 2020, the 152nd draw for Express Entry issued 3,559 invitations to Canadian Experience Class (CEC) candidates.
The CRS score cut-off threshold for this draw was 437 points.
As with the previous draws, a tie-break rule was used. As a bunch of candidates have the same 437 score, only those who have created their profile before May 25, 2020 at 00:31:43 UTC will get an ITA.
CRS score distribution of candidates in the Express Entry pool as of June 8, 2020: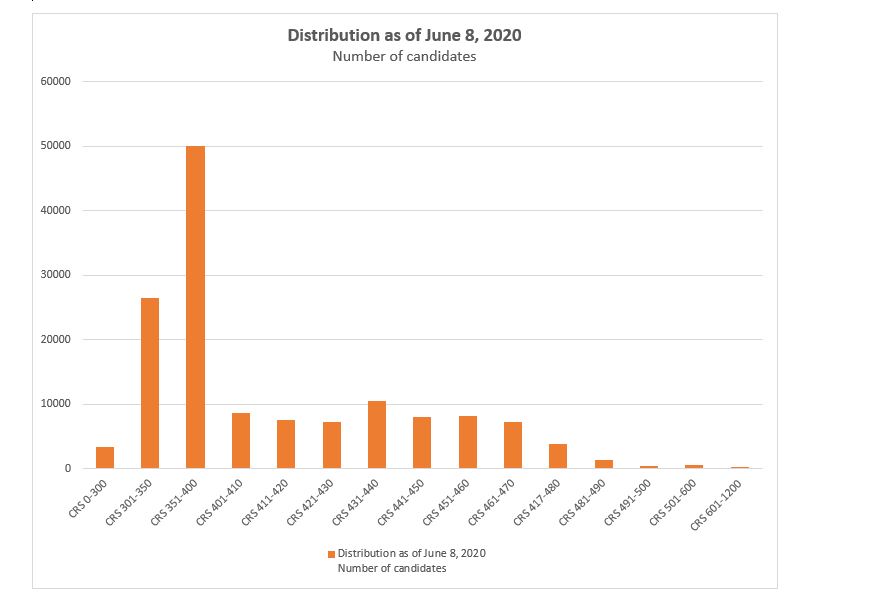 Express Entry Rounds of Invitations in 2020: